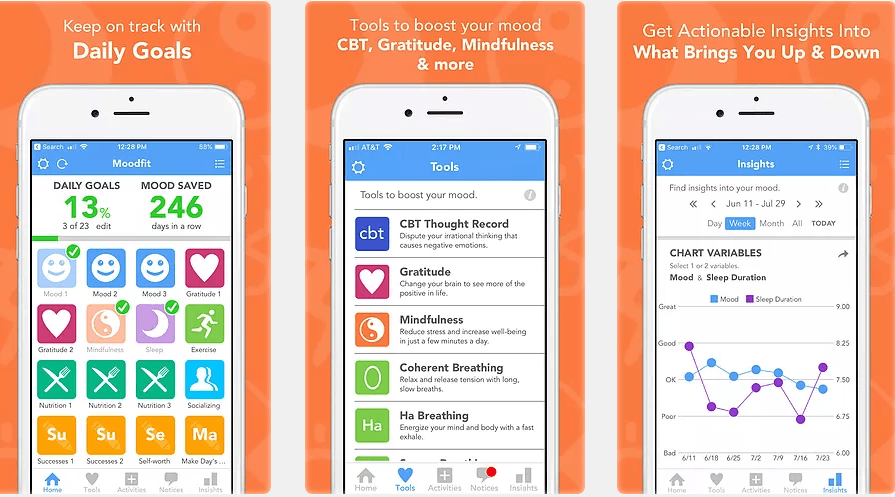 Fitness. It's a word that appears everywhere, from your gym to the Instagram influencers you follow. We're flooded with information on how to get fit.
But what about getting… mentally fit?
If our arms, legs and core are muscles we can exercise, the same can hold true for our mind. That's exactly the idea behind Moodfit, and it does exactly as its name suggests: fitness for your mood. It gets your mind in shape, like how a fitness app gets your body in shape.
There's a lot to like about Moodfit, namely that they recognize that there isn't a one-size-fits all solution for good mental health. That recognition guided the blueprint for the entire product, which has the most comprehensive set of customizable tools and insights to help you learn what works best for you.
So what exactly does Moodfit do? We think the better question is what doesn't it do. When they say they provide the most, they mean it, so much so that we had to break it down for you in bite-sized bits:
Reflective
Moodift allows you to set customized daily goals to keep you on track with practicing self-care so your mind can adapt to new ways of thinking. Similarly, they also provide you with a mood journal to help you gain more awareness of your thoughts and emotions AND a gratitude journal to help you more easily see life's positives.
Therapeutic
Everyone's thinking gets distorted from time to time. By using Cognitive Behavioral Therapy, Moodfit helps you identify these distortions and see more clearly. For people who already have a therapist, Moodift allows you to easily share your information with them so they can better understand how you're doing between appointments. But wait, there's more! If you're taking any mood-related medications, Moodfit will track what you take and let you know which medications are helpful.
Exercises
Can it even by a mental health app without mindfulness and breathing practices? Moodift will help you understand the how-to's of mindfulness meditation and will guide you through slow abdominal breathing, both very effective ways to deal with stress and help you relax.
Tracking
We mentioned earlier that Moodfit helps track the effects of the medications you're taking, but that's not the only thing they track. Sleep, nutrition, exercise and socializing – the most important parts of our lifestyle – are all tracked by Moodfit so you can see how they're respectively affecting your mood. Which brings us to…
Insights
Everything Moodift does wouldn't be complete without learning what works. You can analyze your data in a bunch of different ways to gain more insights about yourself. Have you ever wondered what happens to your mood when you go to bed an hour earlier? Now you can. You'll also get weekly and monthly reports that summarize your activities and identify your patterns, because everything up to now just wasn't enough, obviously.
Are you also picking your jaw up from off the floor? There's a reason Verywell Mind ranked them the best mental health app of 2020. So, what are you waiting for? Go download it!