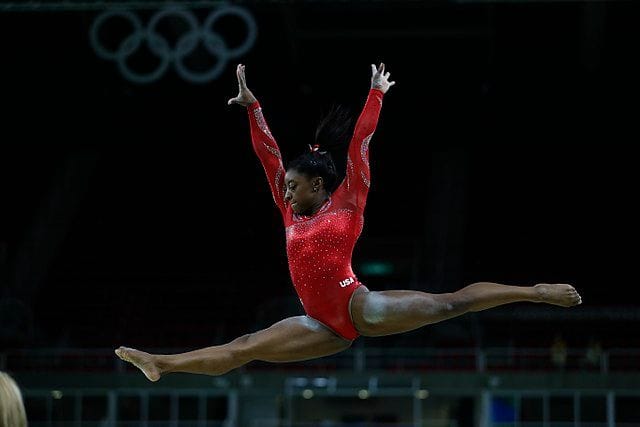 In arguably the most shocking turn of events at the Tokyo Olympics, Simone Biles, the most decorated American gymnast and considered by many to be the GOAT (greatest of all time), withdrew from the women's gymnastics final because of a "medical issue" which she later explained was related to her mental health.
"I have to put my pride aside. I have to do what's right for me and focus on my mental health and not jeopardize my health and well-being. That's why I decided to take a step back," the 24-year-old told reporters after following her withdrawal. "It's OK sometimes to even sit out the big competitions to focus on yourself because it shows how strong of a competitor and person that you really are, rather than just battle through it," she continued.
Japanese-American tennis star Naomi Osaka, 23, the first Asian woman to hold the #1 ranking in the world and the lighter of the Olympic cauldron at the opening ceremony, withdrew from the French Open and Wimbledon this year for the sake of her mental health. "I do hope that people can relate and understand it's OK to not be OK, and it's OK to talk about it," she later wrote in Time magazine.
American Olympic sprinter Noah Lyles, 24, openly shared on Twitter that he takes anti-depressants and also told People magazine he sees both a sports and a personal therapist.
Simone Manuel, the first African-American woman to win an individual Olympic gold in swimming, has openly spoken about taking a break prior to the Tokyo Olympic games after being diagnosed with overtraining syndrome this year that caused her depression and anxiety.
Australian WNBA star Liz Cambage withdrew from this year's Olympics due to mental health concerns, and American sprinter Sha'Carri Richardson was barred from competing at the Tokyo Games after testing positive for marijuana, which she said she had used to cope with the recent death of her biological mother, which she said sent her into "a state of emotional panic".
We could go on and on, and that's the point.
We describe Olympians as superhumans, and in a way, they are. Whenever we watch Simone Biles do flips and turns a double-digit amount of feet in the air, we need to pick our jaws up from off the floor because it truly feels super. But we forget that the other half of superhuman is being human.
When the entire world is watching you and when the entire world expects you to be nothing but perfection – or super – the human half inevitably comes out. Unimaginable athleticism comes with unimaginable pressure, and the biggest stage in all of sports comes with the biggest spotlight. We should give athletes gold medals just for being able to carry the weight of the world, and we should applaud them when they recognize that it's too heavy to hold.
At Circles, we highlight that there is no shame in sharing your struggles because when you do, you realize that what you're experiencing is actually normal. When superhumans share their Olympic-sized struggles, we remember that they are normal too, because they too are human.
Knowing when to take a step back is actually taking a step forward. A key to being great is recognizing when you can't be. There is no shame in sharing that. That's why Simone Biles is the greatest of all time, and another medal doesn't change that.
The only people that can understand what elite athletes endure are elite athletes themselves, and that's why we're working to create Circles for them to connect, find mutual support, and share without shame.