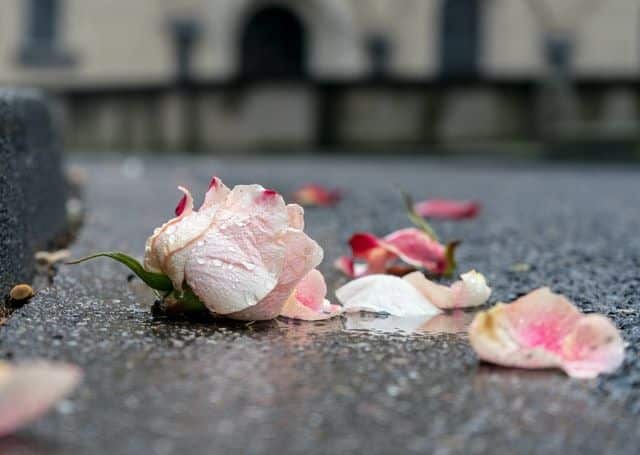 "There are three needs of the griever: To find the words for the loss, to say the words aloud, and to know that the words have been heard." Victoria Alexander
Mourning the death of a loved one is never easy. It is challenging to navigate the feelings of grief even in the best of times when you are surrounded by the loving care and support of family and friends. But mourning the loss of a loved one during the coronavirus pandemic has created new challenges and hardships for those grieving a loved one's death.
Safety precautions to mitigate the spread of coronavirus have mandated limited or no in-person visitations to loved ones who are sick and dying in nursing homes or hospitals. As a result, so many individuals did not or will not have the chance to hold, hug, comfort, and say their final goodbyes to loved ones in their final moments. Additionally, due to social distancing recommendations and regulations, holding funerals and burials has become increasingly complicated. Zoom funerals, something that would have been unheard of just a few months ago, have become the new norm. So how can you process the complicated emotions of grief and loss when you didn't have the chance to say a proper goodbye? And how can you effectively mourn the loss of a loved one during the lonely reality of a Zoom funeral?
Adapting to a New Normal
The coronavirus pandemic will continue to affect so many of us profoundly in the weeks and months to come. Already, in just a few short months, our nation has witnessed challenging sights due to the coronavirus pandemic alone.
We are all familiar with the saying that there is no right or wrong way to grieve. Grief is unique. It looks different to everyone. However, this current pandemic has changed the face of grief in many collective ways. For example, as a result of the coronavirus:
Grief Support Systems Have Been Turned Upside Down In-person, face-to-face support of family and friends is essential for providing emotional care to the griever. The rituals surrounding a funeral create an opportunity for loved ones to gather in support, love, and memory to nurture those suffering from grief. Even after formal rituals, loved ones continue to compile in the days and weeks after the loss to offer support. Today, being less able to receive in-person support can lead to greater isolation and loneliness of the griever.
**There is a Lack Of Closure and Loss of Rituals Surrounding Death: ** Funeral rituals and traditions are essential for many reasons. They allow the mourner to grieve in ways that are anticipated and culturally bound. Funerals help the griever process the reality of death, celebrate and memorialize the life of the deceased, and collectively encourage the expression of grief consistent with cultural and religious values and beliefs.
**Individuals are Experiencing Unprecedented Levels of Stress: ** To put it lightly, these are stressful times filled with many emotional challenges for everyone. Everyday routines that provide stability and comfort for many have been thrown out the window as we define a new normal during the pandemic. This, combined with high levels of stress-related to health, financial, and employment stability, can make a typical day, not filled with grief, difficult at best. Additionally, suppose a loved one was lost due to coronavirus. In that case, the daily news may trigger frequent reminders about their loved one's death, including the fear that they may experience a further loss due to the pandemic.
Coping with Grief During a Pandemic: Taking care of yourself, your family, and your loved ones is critical during this difficult time, and coming to terms with your loss and adjusting to a new life will require new and creative ways to foster and receive support and connection. Additionally, remember to be patient with yourself and your loved one during this time. Coming to terms with loss and adjusting to a new life does not happen overnight, and suffering loss through a pandemic can complicate grief.
Allow Yourself Time to Grieve: There is no set timetable for grief, and without regular rituals and routines, the time and space to grieve may become complicated and blurred. Give yourself permission to grieve and make your healing a priority. Acknowledge feelings of sadness. Accept that you may feel more tired than usual. Take the time to nurture yourself by eating well, taking time to rest, exercise, or spend time in nature.
Let Others Help You: Asking for help can be difficult for many, but don't let it be. Your loved ones want to be there for you to support you through this difficult time. Ask for help when you need it. Reach for the phone when lonely. If you feel alone and don't feel that you have anyone you can connect with or who understands you, there are several ways to reach out for support, including support groups that specifically deal with grief and loss.
Treasure and Celebrate the Life of Your Loved-One: Finding ways to stay connected and honor those lost can be healing. Hold a special remembrance ceremony for your loved one. Write your loved one a letter or put together a unique album filled with memories of a life well-lived. Plant a tree or create a ritual and remembrance that resonates for you, in your heart. Marking a particular place or doing an activity for them is an act of love, and it can also help you feel better and create moments of healing.