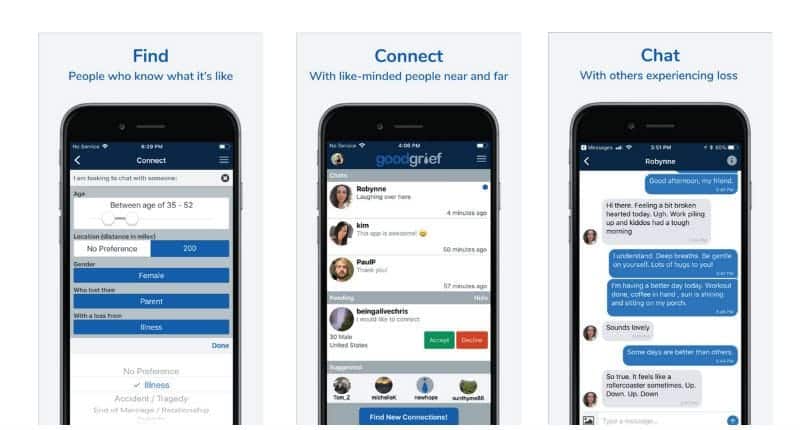 Very few blogs begin by talking about grief, but the truth is, we should talk about it. Grief is inevitable, we will experience it sooner or later, and unfortunately for many, it happens sooner. Especially now, following the peak of the COVID19 pandemic, during which so many lost and are still losing loved ones, it's becoming more important than ever for grievers and their loved ones to open up about their experiences.
At Circles, we provide a number of Circles of support to help people cope with their grief. We strongly believe that one of the best ways for the bereaved to receive emotional support is to speak with others who are also experiencing a loss. Knowing that someone understands what you're going through can really help you feel less alone. Thankfully, there are others that feel the same way.
GoodGrief, launched in 2018, connects people mourning the loss of a loved one so that they don't feel alone. The self-declared "social network for loss" allows new members to create profiles based on the loss they suffered, and then they can start text conversations with others or vice versa. Just like at Circles, the idea is that pain shared is pain lessened.
In fact, GoodGrief's founding story is Exhibit A. Robynne Boyd, GoodGrief co-founder, was introduced to co-founder Kim Libertini via text. At the time, newly single parent Robynne was struggling with her mother's terminal breast cancer, and Kim, also a single mom, lost her partner from a heart attack. Eventually, their text messages turned into a digital friendship, and in hindsight, the blueprint for what is now GoodGrief, which is now fostering similar connections.
Whether you lost a parent, sibling, child, relative, or friend due to a variety of causes, you can text someone experiencing a similar loss through GoodGrief. You can also use additional filters to narrow your connections by age, gender, religion, time frame, type, and cause of loss, so you can find others more like you.
Whenever we encounter other apps like GoodGrief, our smile gets so big it basically becomes a Circle, because we know others are following our mission to help those struggling with their loss feel less alone. As we continue to deal with the effects of the pandemic, the loneliness epidemic is still escalating, and it's more vital than ever to stay connected.