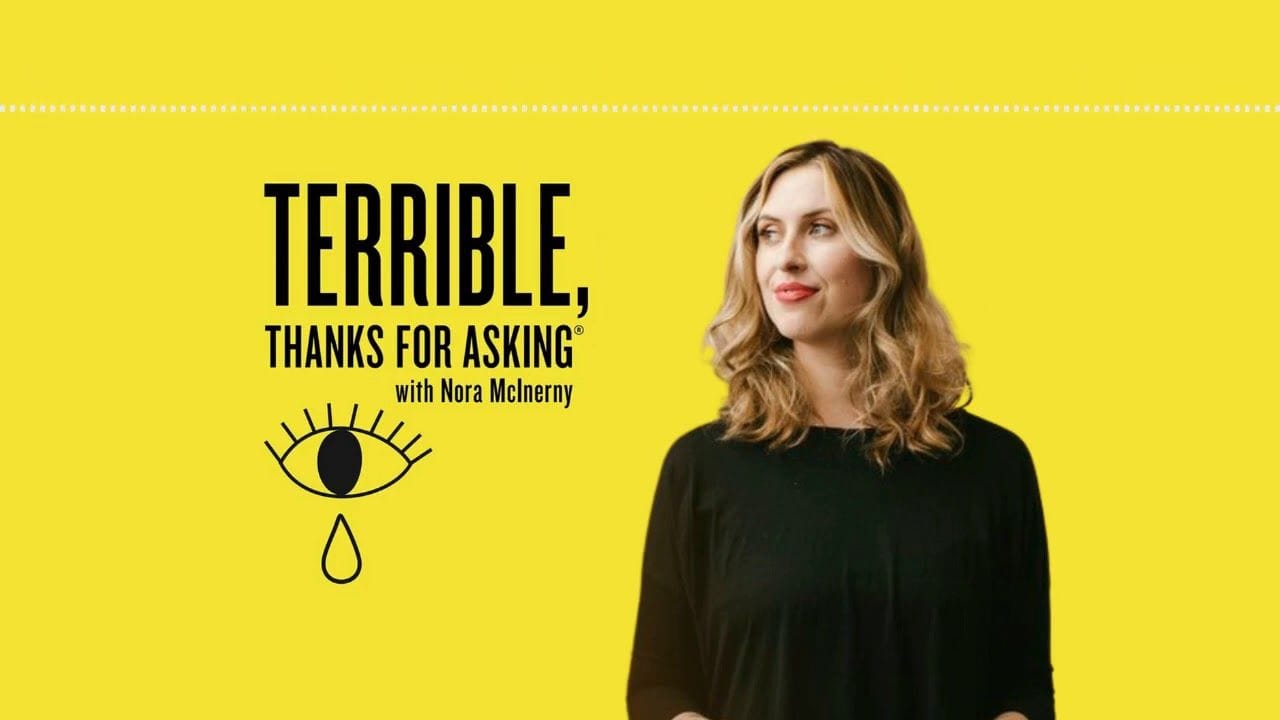 This week we'd like to put the spotlight on the award-winning podcast "Terrible, Thanks for Asking" created by Nora McInerny. Nora is also the best-selling author of the memoir It's Okay To Laugh, Crying Is Cool Too and the founder of the nonprofit Still Kickin.
On October 3, 2014, Nora McInerny lost her second pregnancy.
On October 8, 2014, her dad died from cancer.
On November 25, 2014, her husband Aaron died from brain cancer.
A typical response when hearing this is "I can't imagine." But as Nora mentions in her must-see TED Talk, you can, and you should, because of this one absolute fact: everyone you love has a 100% chance of dying.
Death is an unavoidable part in the trajectory of our lives, and in order to heal, both for ourselves and those around us, we need to be honest about it.
That year changed the course of Nora's life, and today her work is helping so many others around the world process their grief and heal. Nora has made a career of talking about death and grief, through her books, her nonprofit, and her podcast, to as she describes it, "make more people comfortable with the uncomfortable."
Nora is, needless to say, amazing, and although we'd like to discuss everything she's worked on, today we'd like to focus on her absolutely-need-to-listen-to podcast.
The name really says everything you need to know. When you're grieving and people ask you how you are doing, we think we speak for a lot of people when we say a bunch of thoughts cross through our minds, all of them a variation of "terrible, thanks for asking." But instead, we look at the person and say "' I'm doing fine, all things considered" or "I'm doing okay under the circumstances," even if we're not.
So on "Terrible, Thanks for Asking," Nora has a refreshingly honest conversation about grief with others who are also grieving. There is no sugarcoating, no fine-tuning or tweaking. Just the real, raw, honest truth about the experience.
When we say you must listen to it, we mean it. Whether you're grieving or know someone who is grieving, it's one of the most important podcasts you can listen to about bereavement. She brings heart and levity to conversations most of us try to avoid, and she makes the unavoidable anything but. So stop avoiding it. Give it a listen.