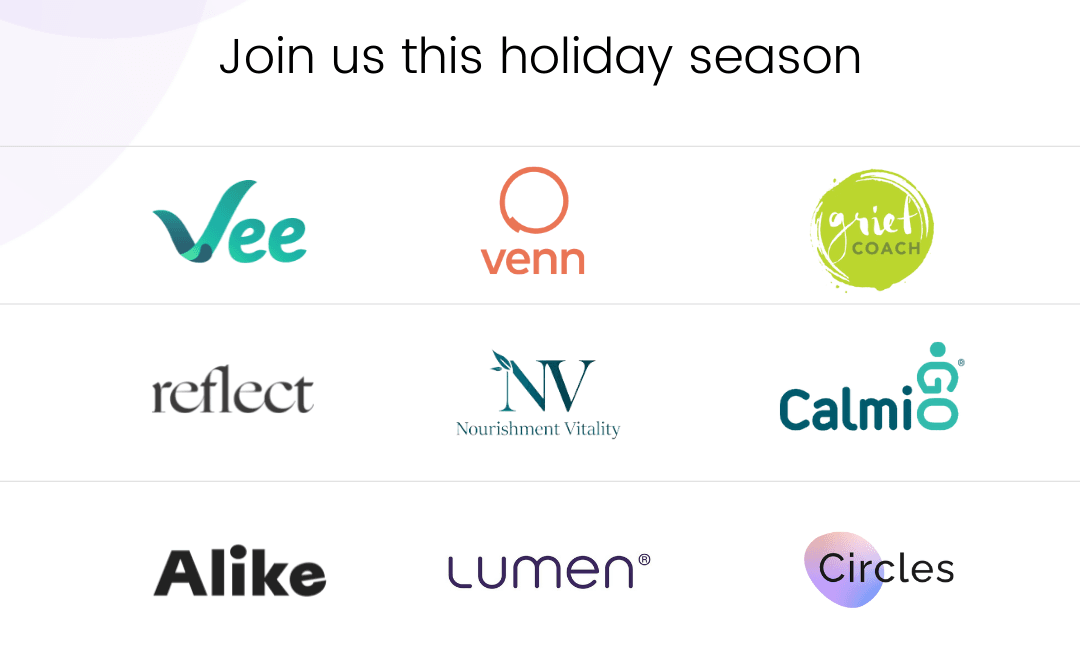 What do you think of when you think of the winter holidays?
Lights, presents, family, cheer, and merriment are all things that probably ran through your mind. That's understandable since that's all we see.
But while most brands and the media portray a perfectly "filtered" holiday filled with joy and happiness, at Circles we understand that the unfiltered reality is that for most people, the holidays are actually the most challenging time of the year.
Ahead of the holidays, it's important to be mindful that not everyone's Christmas is "merry." A staggering 88% of Americans feel emotional discomfort during the holidays. Not only that, roughly 11% of Americans feel extreme loneliness during the holidays.
That's why we're so excited to launch Holidays #NoFilter, a free online hub dedicated to helping the millions of Americans who are lonely, stressed, or feel emotional discomfort during the holiday season. Holiday #NoFilter covers stories from others who also have a hard time over the holidays, professional advice for a stress-free holiday season, goodies to warm your heart, and access to free Circles of support so you won't be alone this year. We want to be there for those who struggle and offer support.
Thanks to our amazing partners, we're able to do it better – together. Each and every one of our partners has added value to this initiative to ensure the support we're offering is the most impactful. We encourage more brands and partners to join us and bring this vision of a supportive, comforting, and less lonely holiday to life.
Meet the changemakers that are making a difference this holiday season.
Grief Coach
If you're grieving or know someone who is, Grief Coach will text you personalized support, all year long. The holidays are an especially hard time for grievers, and we're humbled to know that Grief Coach is working with us to ensure they are supported this year.
Vee
Vee empowers socially responsible companies to maximize their impact and meaningfully engage their employees around their values. Vee understands the importance of creating a better world for everyone, and we're proud to be partnering with them this holiday season.
Reflect
Reflect is an innovative wellness experience that uses biofeedback to help guide you towards daily relaxation. Their number one priority is ensuring you maintain your mental wellness, and their technology is more important than ever during this time of year.
CalmiGo
CalmiGo is a hand-held device that brings about rapid relief and relaxation. It's a self-declared "calming companion" that everyone dealing with stress and anxiety can use on a daily and seasonal basis, like during stressful winter holidays.
Alike Health
Alike Health taps into the power of medical records to make personalized health a reality and connects you with people facing similar medical conditions. Alike Health understands the power of connecting you with people in a similar situation, all the more important during one of the loneliest times of the year.
Venn
Venn is a platform that empowers people everywhere to connect with their neighbors and neighborhoods, based on the mission to "help create a sense of belonging." Creating a sense of belonging is what we aim to do for our members every day, and we can't find a more fitting partner to help us do so over the holidays.
Nourishment Vitality
Nourishment Vitality is a sustainable and shame-free approach to stress, fatigue, and weight management. Guided by the expertise and life experience of Sheryl Puterman, Nourishment Vitality understands the importance of being mindful of your mental health, especially during stressful times like the holidays.
Lumen
Lumen is the world's first hand-held, portable device to accurately measure metabolism. Lumen understands the importance of being mindful of the connection between our mind and body, and we should never take that for granted.
We're humbled to be partnering with such amazing companies. Stay tuned for more. In the meantime, visit Holidays #NoFilter to learn more.