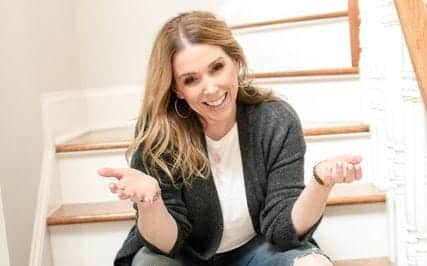 Today we're putting the spotlight on Jennifer Hurvitz, a Certified Divorce Specialist (CDS™), public speaker, best-selling author, and host of the Doing Relationships Right Podcast. Divorced since 2014, Jennifer helps people understand what a happy divorce can look like and how to dip their toes back into the dating world. She has been featured on Oprahmagazine.com where her book Woulda Coulda Shoulda: A Divorce Coach's Guide To Staying Married was chosen as one of the best books to read with your partner for a healthy relationship!
Can you tell us about yourself and your background?
Where do I start? I was married for 13 years; never thought I'd end up divorced but when I did, I needed a career. I was a stay-at-home mom and had to start over from the beginning. So, I figured…why not a blog? They were really "in" back in 2014. I called it, The Truth Hurvitz, and the rest was HERstory! The blog was cathartic, and it resonated with people…I got hundreds of messages saying that I was writing exactly what people were feeling and thinking. After six months I got a call from an agent out in LA and was asked to write a TV pilot. That was fun! We shopped it around for a bit; won a few cool festivals. Then I decided to write my first book, start the podcast, and then my second book.
Why did you decide to become a relationship coach?
Well, I started off as a writer, then a podcaster, and then a Certified Divorce Specialist. Then, after being divorced for 7 years and in a healthy, loving relationship for 4 years I decided to pivot from Doing Divorce Right to Doing Relationships Right…it was time to move from the divorce space to the relationship & dating space which brought more positivity and hope into my life. And opened all kinds of new doors…I still coach divorced clients but more in the dating space.
What are your most rewarding moments as a relationship coach?
Who doesn't want to see their clients strong and confident, making good choices, and feeling empowered? I love it. I just do! Nothing better than giving my clients the tools they need to find their person and the advice to help KEEP 'em. My job doesn't just stop after I write that awesome online dating bio or create a fantastic "picture perfect" profile! I teach my clients the skills they will use throughout the relationship and in life.
Can you tell us more about your books and your podcast?
One Happy Divorce – Hold the Bullshit was my first book baby in 2017. I wrote it as a gift to myself; to heal the wounds of my divorce, it was purely cathartic. My second book, Woulda. Coulda. Shoulda: A Divorce Coach's Guide to Staying Married is a self-help memoir for those people contemplating a divorce or just going through one. I really wanted to give an honest (sometimes brutally) depiction of what divorce really looks like, with no filters. OprahMagazine.com chose this one as one of the Best Marriage Books to Read with your Partner for a Healthy Relationship. One of the BEST days of my life, well, after the birth of my boys. My podcast, Doing Relationships Right is good for my soul. It keeps me sane! I interview the most fabulous guests and talk about everything under the sun from dating and intimacy to finances and life post-divorce. Honestly, it began as a passion project and it's become quite the little business. I have the most loyal and engaging listeners…I am the luckiest woman in the world.
What is your best piece of advice for people in the process of divorce or separation?
Oddly enough, I've changed my tune over the last year or so. I used to say it was really important to wait until you were healed and totally good being alone to start dating. But honestly, I have come to realize that's not the case. No one is EVER the perfect version of themselves; we are forever growing and changing, working on ourselves to be better. So, while I do feel it's important to wait a bit to get back out there into the dating pool—don't think you have to be the BEST version of yourself. You will find a partner that wants to grow with you and loves you for your little imperfections. See, even Relationship experts learn some new stuff along the way!