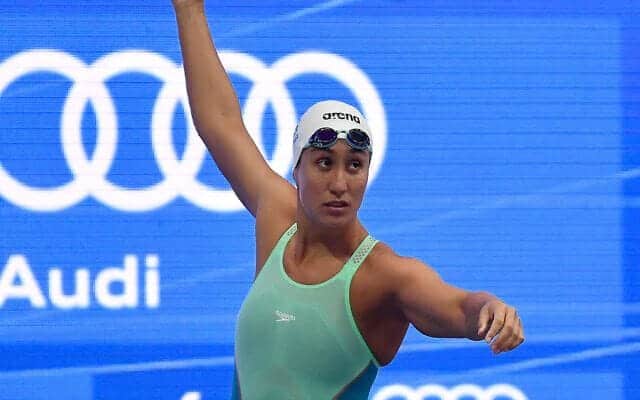 This week we'd like to put the spotlight on Andrea "Andi" Murez, who swam for the Israeli swim team at the Tokyo Olympics. Andi and the rest of the Israeli swim team qualified for the Olympics' first-ever mixed medley relay final and set a new Israeli record, finishing in 3 minutes and 43.94 seconds.
Congratulations on completing and representing Israel. How do you feel?
It feels different at different times, but I just feel it was such an amazing experience. So many people have reached out and supported me, particularly over the last week, and I just feel very grateful to have that support and the opportunity to represent and compete at the highest level.
Yeah, you literally competed at the highest level, which so few people can say. What was this year like for you in terms of preparation? Because the Olympics were pushed off a year, what was that like for you mentally and in terms of training?
When the pools were shut down, I was training in San Diego, and I went to LA to my parents' house. No one knew what was happening. One of my teammates came with me, and we ended up training there for three months. We searched every corner of my house to find a way to continue doing gym workouts and swam a bit. I was very fortunate. Obviously, it was totally different, but I was able to still train. At first, when the pools were shut down, the Olympics hadn't been postponed, and it was stressful because how are we ever going to be able to keep up our training? So when the Olympics were postponed, it was kind of a relief, because then we could take care of our safety and put things on pause. I am in medical school right now at Tel Aviv University, so I have taken two years off. I was planning to just have one year to prepare for the Olympics, and this gave me an extra year. I felt like it was an opportunity. I think this Olympics has shown that some of the veterans that you thought were going to either qualify for their Olympic team or perform super well at the Olympics, had a hard time. Because they were so set in their routine, and then it was postponed, I think it was hard for people. But for me, it was good to kind of get out of it, to still have something else to focus on. But also, our coaching staff did a really good job of finding pools. As annoying as it was that our schedule was constantly changing and being updated, at least we had pool space. I think the big thing is that I was out of the sport for two years, so I had a little more motivation and was thankful for the extra time. That kept me going and really helped me to stay focused. I was just happy to be swimming. Even just leading up to the games, we had several competitions in a bubble-type situation, with no fans in the stands, so I got used to what it was going to be like, and that helped me be able to swim at the Olympics without the huge crowd.
You mentioned earlier how debilitating it could be for singularly focused athletes to push something like this off for a whole year. Is that something you recognized with the other athletes? And how big of a toll does that take on an athlete, when you have this routine, you have this plan, and then it just gets completely derailed?
So we kept having Zoom meetings, like once a week or every other week, just to stay connected and check in with everyone, which I think was super important. David Marsh, our coach, also encouraged us to do other things, like study in some online program, something to just keep our mind off of swimming because there was so much downtime. We had also talked to psychologists, mental coaches, and past swimmers to bring in all of these other resources. I was able to study, which kept my focus on something else, and gave me something to do because I think it was tough. There are people who quit and didn't want to swim throughout the year because it was hard, no one knew exactly what was gonna happen, or they didn't perform as well as they wanted to because it was hard to get into a new routine and a new normal. But I'm super thankful that my coach pushed us to find something else to do. That's where I think having that balance in your life is super important.
Yeah, absolutely. When Simone Biles withdrew from the competition due to mental health concerns, all of a sudden there was so much attention on athletes' mental health. What was that like for you? What was your reaction to it?
I was very surprised to hear it. I just think it's really good to talk about and normalize that this is something people go through. Competing at the Olympics can really affect you, there's even something called post-Olympic depression, just because you go from such a high and to being at home a few weeks later and that all dies down. I think for some people it's really hard to go from being on the top to just being back to normal. My family has always told me that swimming isn't the end, as in, it's not the only thing you're going to do. You need to have balance. Coming back from Rio 2016, I had just been swimming for the past three years, and my parents pushed me to apply to medical school. I had done all of the requirements, all I had to do was apply, but I just hadn't done it yet, because I wanted to keep swimming. I think it was good to have that as something to look forward to. I also think just having a good support system is the number one thing. It was interesting because I actually think having social media during the Olympics was helpful. Hearing how excited and impressed my friends were and people from school, or from my high school swim team, or whoever. Even when I had swims where I wasn't excited about the result, I would go to sleep that night and see all these messages from non-swimmers who told me how fast I was and it made me take a step back, have some perspective, and realize what I'm doing is great and not get so caught up in the details of being a professional swimmer who wants everything to be perfect. But having that balance of having something else to fall back on, you realize who you are as a person isn't defined by your results, or even necessarily your sports career.
Yeah, absolutely. One more question: how important is it to be having these conversations about mental health and do you feel a shift from Rio 2016 to now?
Having the conversation is super important and just making it become something that people are aware of. Having it in the news for two weeks of the games is great, but where does it go from there? It's definitely a start. Hopefully, people are seeing it on the news and having conversations with whoever they're surrounded by, but I think you have to have more than that. Hopefully, schools are talking about it. At the Olympics, they did have places that you could reach out to for support, so I think it's becoming more of a topic, which is good. We also had a sports psychologist with us, which was super helpful, because on the day-to-day basis is where it starts. But the more it is in the news, and the more these big stars talk about it, it shows that it is real and it can happen to anyone. I think we're moving in the right direction.
So true. Andi, thank you so much, and congratulations!