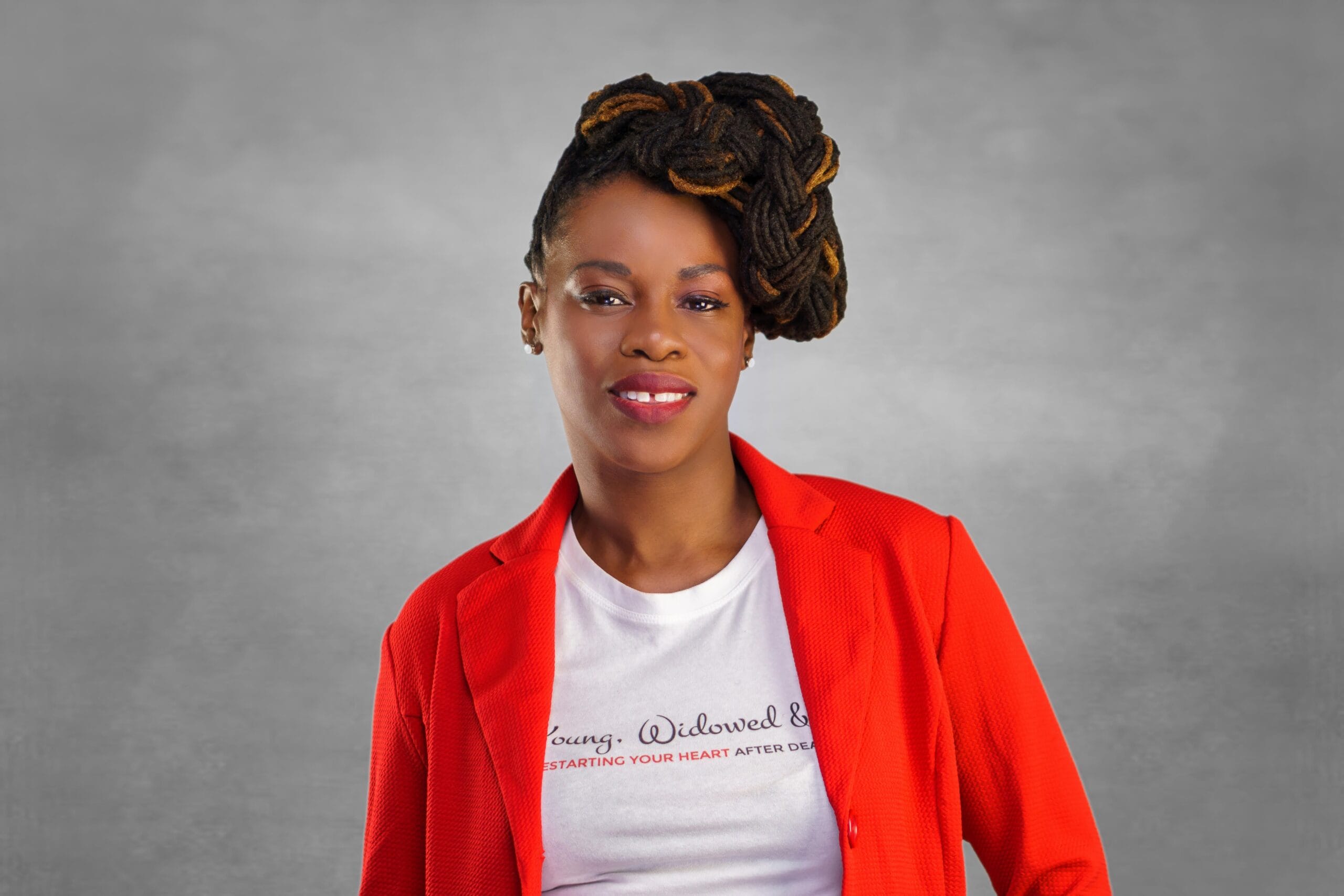 Today's spotlight is on Kerry Phillips. Following the unexpected loss of her husband when she was 32, Kerry founded Young, Widowed & Dating, a community for young widows to support each other as they venture back into the dating pool. Since its founding in 2015, the community has reached 9,000 members.
Can you tell me a bit about your story and how navigating venturing back into the dating pool led you to create Young, Widowed, & Dating?
I lost my husband unexpectedly at 32 years old. We'd been married for about a year, though we dated for close to 8. Though I was surrounded by my family and friends, I felt isolated regarding my loss. I didn't know anyone who had gone through this and when I finally worked up enough courage to seek out a support group, I ended up being with women in their 70s and 80s. Though I take nothing away from their losses, it just wasn't a good fit for me.
I'd initially put to bed any concept of dating, remarry or even loving someone new. I thought I wanted my obituary to read that I'd lost my spouse and went to my grave loving him. It took about three years to realize that I missed the compassion that came with dating but felt conflicted and guilt for having those feelings.
Plus, I had questions my girlfriends couldn't answer, such as: Should I keep on my wedding ring? When do I announce that I'm widowed to a potential partner? How will I navigate dating having such a close relationship with my in-laws, etc.?
After my experience in the grief group, I thought maybe an online option would be better suited for me. I found a lot of those groups a little depressing if I'm being honest. I struggled with my guilt, so I knew a part of me was okay giving myself permission to live post-loss. I need a place that would nurture that side of me, not feed the guilt.
I started Young, Widowed & Dating in November 2015, hoping to attract maybe 10 or 20 people dealing with the same emotions. I am still in disbelief that we're at almost 9,000 members! The group is designed for those who are actively dating and those who are open to dating again. Many of our members are even remarried and like the connection of having a safe space to discuss some of the guilt that continues even after a new love story. We've even had members connect, fall in love within the group, and get married. They are the embodiment of love after loss, and it gives us all hope that it is possible.
What were the early stages of Young, Widowed, & Dating, and how did it progress to what it is today?
Most of the early members found me through Huffington Post. I hadn't shared much of my story with anyone outside my immediate circle. After the group formed and I saw the power of connection that happened just by sharing my story, I found the most significant platform I could and wrote a piece about what it meant to be a young widowed. So many people reached out only to offer condolences but to connect me with a young widow or widower they knew. Then those members invited others, and the group grew from there.
Even though we have gotten so big, many of the core factors remain true. We strive to be a non-judgmental place of support. We all have taken different paths to lead us to widowhood, so it's important to realize grief is not a mu-mu; it's not one size fits all. I often remind members that there is no one way to be widowed.
I try to offer group members as many tools for their grief toolbox as possible – dating webinars, giveaways for widow retreats, helpful books, etc. Plus, of course, a safe place to land on the days their grief is especially overwhelming. It's also a place to show off happiness. I've been told it's refreshing that the group is such a positive place, even for a newer widowed person. More than anything, I think the group provides hope…hope that it does and will get better.
In 2018, you interviewed 100 widows for a book, "The One Thing: 100 Widows Share Lessons on Love, Loss, and Life". How did you come up with that idea and what was that experience like? What did you learn along the way?
I thought it would be helpful to hear how other widows from all walks of life and background were navigating their grief journey. Yes, I can share my story, but wouldn't it be great to have 100 different experiences, perspectives in one place? The book asks each widow to share the one bit of advice they'd share with a newer widow on topics such as raising children who are grieving, dealing with in-laws, religion, moving forward, etc.
As the person compiling the ladies' "one thing," it was truly an eye-opening experience. Though I had been widowed for about six years at that point, I really got some great advice that was relevant to my own healing and journey.
My most important takeaway was that there was no way to grieve. The way we grieve is as unique as the love we shared with a spouse or partner.
What has been your most meaningful experience leading Young, Widowed, & Dating?
The most meaningful experiences have come from our annual meetups. We vote on a different city/place each year and get together during the summer. Our 2019 meetup in Denver was epic! A couple who met in the group was gracious enough to get married as part of the meetup, giving us a front-row seat to their happiness. And, if that weren't the icing on the cake, they invited me to officiate the wedding. We live-streamed the nuptials in the group, and everyone witnessed this wonderful re-marriage of two broken souls coming together.
If you had to give a widow one piece of advice, in general, or about "restarting your heart," what would it be?
I think it's important to remember that there is no timetable for grief and that people will talk, regardless, so it's best to follow your heart. If you wait too long to put yourself back out there, people will say you're "stuck." If you date what appears to them as "too soon," then you didn't love your spouse. I say do what makes you happy – remember to date from a place of healing.
Most importantly, I've learned that even with living and loving post-loss, my obituary still gets to read that I went to my grave still loving him. The heart expands to let in more love, even when we think we have nothing to give.
Circles is partnering with Young, Widowed, & Dating so that as they support each other during their new chapters, we can support them – and you. As part of our partnership, we're providing you with a 50% off discount for your first month at Circles. Redeem it here.